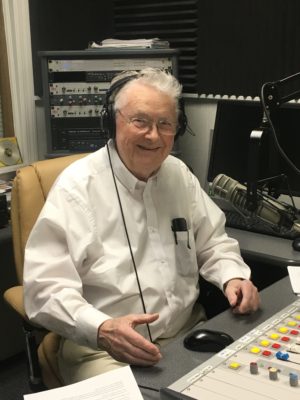 JAN

CADDELL

Jan's broadcasting career began at the early age of 13 in the Fall of 1953, doing weekend air shifts for his father, Raymond Caddell, a South Carolina broadcaster. His family moved to Ashe county in 1968 and purchased WKSK in 1978.

A past president of the N.C. Association of Broadcasters and recipient of the Association's Distinguished Serice Award, Jan was inducted into the N.C. Broadcasters Hall of Fame in 2002.

Jan has hosted talk shows on WKSK and WRGC in Sylva, North Carolina since 1968.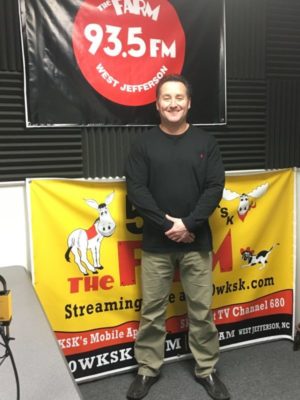 GRAHAM

CADDELL

Hi! I'm Graham Caddell…CFO  Chief "FUN" Officer here on The Farm! If you're reading my bio that means the TV Networks still haven't called…lol.

Whatever platform you listen to us on, we appreciate your loyalty & friendship. I've been "farming" for so long here at WKSK, I can hardly remember writing this. Thank you Ashe County & the surrounding High Country for allowing us to do what we do.

Thank you too for supporting Independent Radio! #KeepItLocal

Email Graham: [email protected]
DIANNE

GUY

Hi, I'm Dianne Guy. I have been with WKSK The Farm since February of this year, 2018. I am very proud to be here and serve our loyal listeners and answer questions that you may have, from Ads to the famous Trading Post. It is a HOOT to work here… Love It!

I enjoy anything with being outdoors and working with flowers to mowing!

My greatest enjoyment is spending time with my family & Fur babies!!!

I also LOVE going to church, playing the piano & singing for my Lord & Savior!

Email Dianne: [email protected]
MIKE
"MOOSE"

POWERS

Being the "Moose" and a part of the "Farm" is a great joy for me! Thank you, our loyal listeners, for making that possible.

I enjoy doing anything outdoors... working, hunting fishing, shooting, cooking, and spending time with my family and pet pug Abner.

Thanks for listening. God bless!

Email Mike: [email protected]
NATHAN

ROLAND

I'm Nathan Roland and I have been the Program Director and Midday On-Air Personality at WKSK since 2002.

I love being part of The Farm family. Speaking of family, I'm married to Karen Roland and have one son, "little bird" Connor, and yep, one pet, a little Jack Russell Terrier named Lexie!!!

When I'm not on The Farm, you may see me on a local creek or river bank fishing which is my favorite hobby, love tearing up those trout! I also enjoy attending church, spending time with family and friends, interacting with our fine listeners, and sorry Carolina fans, I love Duke basketball!! Go Blue Devils!!

Thanks for listening!

Email Nathan: [email protected]
GINA

WOODS

Hi, I'm Gina Woods and I joined WKSK in 2021 as Traffic Director. I work in the bookkeeping department and direct traffic in and out the door, such as entering advertising orders and invoicing back out to the customer.

I enjoy spending time with my husband, Richard, our daughters, Sam and Katie, and all of their friends. Our house and hearts are always full.

I love working here at The Farm where there is never a dull moment!

Email Gina: [email protected]
---
HAVE A
REQUEST?

CALL OR TEXT OUR STUDIO LINE!
#WKSKTHEFARM
Join WKSK on Social Media