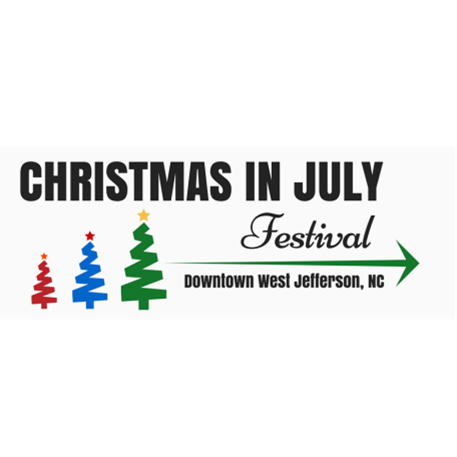 Vendor Applications Open February 1
West Jefferson, NC –After a very successful return to Jefferson Avenue last year, Ashe
County's longest running festival is gearing up for 2023. The Christmas in July Festival
Board announced, "Vendor Applications will available Feb 1, 2023." Jane Lonnon, long
time festival coordinator shares, " We encourage interested vendors to apply early."
Adding, "there is an increased interest in being in the mountains on July 4th weekend
where it is cool and a proven popular venue." The booth fees are discounted for
vendors who commit by March 31, 2023.
The festival is interested in adding local food vendors to the food court this year and
encourages any food vendor or non profit interested in being a part of the 35th Annual
Christmas in July Festival to go to www.christmasinjulyfestival.com where they can
download the applications or ask any festival related questions they may have.
This years festival will begin on Friday evening June 30 with the opening ceremony at 5
PM followed by entertainment for the rest of the evening. Food vendors will also be
open Friday evening.
The festival craft vendor tents will once again be located on Jefferson Avenue leaving
sidewalks clear for walking and space between booths and Ashe County Farmers
Market will open with plants, produce, and handmade items on Saturday morning.
This year's entertainment will feature something for everyone with traditional mountain
music, popular folk tunes, classic rock and beach music you can shag to with your
favorite dance partner. There are special sponsorship opportunities for businesses
wishing to sponsor a band or have naming rights to a particular area.
The Festival invites interested craft and food vendors to complete an online registration
by going to www.christmasinjulyfestival.com. The deadline to get the early bird
registration is March 31, 2022.
The Christmas in July Festival celebrates the Christmas tree industry and mountain
heritage with arts, crafts, and local entertainers representative of the region. The
Christmas in July Festival is a non-profit organization and its Board of Directors &
committee members are unpaid volunteers who work tirelessly throughout the year to
host a fun, safe, family-friendly event for the entire community and those visiting Ashe
County.
For more information and updates on the festival, follow us on Facebook at Christmas In
July Festival or visit www.christmasinjulyfestival.com to learn more about the music
lineup, food vendors, fun and festivities planned. Make plans to visit Downtown West
Jefferson June 30 and July 1, 2023.
#